Publisher's Description of DEV1AT3
In the wake of a climactic battle in the ruined city of Babel, two former best friends suddenly find themselves on opposite sides of the same quest. Eve is torn between the memories of the girl she was, and the synthetic she's discovered herself to be. Together with her lifelike "siblings," Eve sets out to find the real Ana Monrova, whose DNA is the key to building an army of lifelikes.
Meanwhile, Eve's best friend, Lemon, is coming to terms with a power that she has long denied– and that others want to harness as a weapon. When she meets a strange boy named Grimm, he offers to lead her out of the horror-ridden landscape and to an enclave of other abnorms like herself. There, Lemon quickly finds a sense of belonging–and perhaps even love–among the other genetic deviates. But all is not what it seems, and with enemies and friends, heroes and villains wearing interchangeable faces, Lemon, too, will join the race to locate Ana Monrova before her former best friend can get to her.
Rebecca's Thoughts
I'm picky about the sequels I read but thought the 1st book in the LIFEL1K3 series was as imaginative as it was action-packed. (You can read that review here.) It pulled me in for another 448-page romp through post-apocalyptic cities and barren desert with Jay Kristoff and his characters. I wasn't disappointed.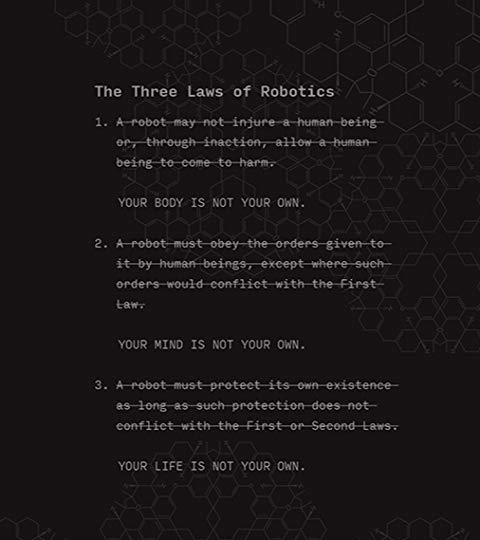 Science fiction fans will appreciate Kristoff's reinterpretation of Asimov's 3 Law's of Robotics, which he uses to underpin the conflict in this series. His characters include machines made to serve humans, humans—all sorts, including deviates with special abilities, and machines made to be better than humans. While LIFEL1K3 was primarily told from a human point-of-view, DEV1AT3 gives more time to the viewpoints of the machines. This allows Kristoff to explore more deeply their thoughts and choices, and the prejudice each faces at the hands of others. The correlation between this prejudice against the "other" in Kristoff's dystopia and that in the world around us boils under the story's surface.
At the surface level, I love Kristoff's characters. Whether human or machine, they come alive with voice and personality. The world he builds is larger-than-life and the story's action is out-sized enough to fill that world. Growing conflict and quick pacing make the story a page-turner.
What did I not like about this book? That because I read an advanced reader copy, the wait for book 3 will be really, really long.
Highly recommended!
I received an advanced reader copy of DEV1AT3 in exchange for an honest review.
DEV1AT3 will be released on June 25th. You can check it out on Goodreads, or pre-order via Indiebound, Barnes and Noble or Amazon.
If DEV1AT3 sounds like a book you'd like, you might be interested in other young adult spec fic books we've reviewed recently on the Winged Pen:
Aurora Rising by Amie Kaufman and Jay Kristoff
The 2018 CYBILS Book Award Short List – a Wrap Up
Enchantée by Gita Trelease
Stronger, Faster, and More Beautiful by Arwen Elys Dayton
Salt by Hannah Moscowitz
The review was originally posted on TheWingedPen.com.